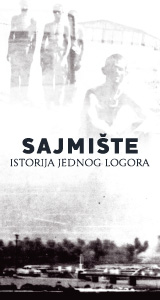 Video über den Einmarsch der Deutschen und das
Konzentration Lager: Samlin
Samlin - The History of a Camp
This is a story about a completely different time, a story about people who are no longer with us, a story about a forgotten killing field.
B92 is proud to present a two-part documentary entitled "Samlin, The History of a Camp". In the very centre of the city, in a place that we pass by every day, is a place where thousands of Jews and Serbs were murdered, a place of terrible suffering, death and memories. For the first time on B92: the history of one of the most infamous camps of the Second World War.
Featuring brand new statistics and interpretations, exclusive survivor testimonies, and hitherto unseen archive material.
The first part of the film focuses on two camps for Jews in Belgrade and on the Holocaust. Sadly, Serbia is the second country in Europe where all interned Jews were killed - some 83 percent of the Jewish population that lived in Serbia prior to the war. One camp was Topovska Šupa and the other Samlin. Topovska Šupa was the first camp established by the Nazis in Serbia, and was named after the place where the Kingdom of Yugoslavia's artillery was stationed. It operated from late August to October 1941. Although official figures were destroyed, it is believed that around 5,000 people passed through its doors. Jews and Roma from Belgrade and Banat were brought there, before being transferred on for execution to Kumodraž, Bežanije, Jajince and Samlin. All male Jews were executed at Topovska Šupa.
The camp at Samlin was opened in December 1941. Lying on the left bank of the Sava river, opposite "Old" Belgrade, Samlin (Zemun- Judenlager Semlin, to give it its full name) was one of the first concentration camps in Europe, purpose-built for the internment of Jews. Between March and May 1942, around 7,000 Jews, mainly women, children and the elderly (which was around half of the Jewish population in occupied Serbia) were systematically murdered there in mobile gas chambers manufactured in Germany.
The film features eye-witness accounts from the lucky few who survived, former camp inmates, specially-filmed reconstructions, and archive footage, including hitherto unseen material.
..................
http://www.b92.net/specijal/samlin/index.php
Ante Pavelic Croat Ustashi Meets Fuhrer Adolf Hitler 1941.flv