Quoten Tussis der Hirnlosen NGOs, aber erneut soll jemand mit Null realen Erfolg einen hohen EU Posten erhalten, damit die Bestechungsgeschäfte auch mit Betrug der EU Gelder nicht untersucht werden als System der Deutschen und Österreicher, was ja unter der Peinlichkeit von Bodo Hombach schon gut bekannt war.
Extremer Amtsmissbrauch, wie zuvor in Kroatien, Mazedonien dieser Georg Soros Sonder Staatsanwältin******
Die Georg Soros Mafia mit ihren dummen Staatanwälten, konnte sich nicht durchsetzen.
Jean-François Bohnert takes the lead for Chief European Public Prosecutor as Kovesi stumbles in Council
22.06.14
Vorwurf: Martin Schulz soll korrupten EU-Politiker gedeckt haben
Der SPD-Politiker Martin Schulz soll während seiner Amtszeit Korruptions-Untersuchungen gegen den EU-Politiker Ovidiu Silaghi verhindert haben. Silaghi ist aktuell der Verkehrsminister Rumäniens im Kabinett Ponta I.
Die
FAZ
berichtet:
"Silaghi ist angeklagt, 2012 als Verkehrsminister im ersten Kabinett des sozialdemokratischen Ministerpräsidenten Victor Ponta 200.000 Euro von einem Unternehmer angenommen haben und als Gegenleistung bei einem öffentlichen Auftrag zu dessen Gunsten interveniert zu haben."
Die rumänische Anti-Korruptionsbehörde hatte dem EU-Parlament im vergangenen Dezember einen Antrag zur Aufhebung der Immunität Silaghis vorgelegt. Schulz soll den Fall weder dem Parlament noch den zuständigen Ausschüssen mitgeteilt haben. Die Aufhebung der Immunität konnte somit weder diskutiert noch vorgenommen werden. Der SPD-Politiker hat sich zu den Vorwürfen bisher nicht geäußert.
Weiterlesen
hier
Der EU Korruptions Motor mit Laura Kovesi, wo inwischen der Ex-PM Victor Ponta freigesprochen wurde
Update: Romania's former anticorruption head, investigated just as she prepares to be heard for European Prosecutor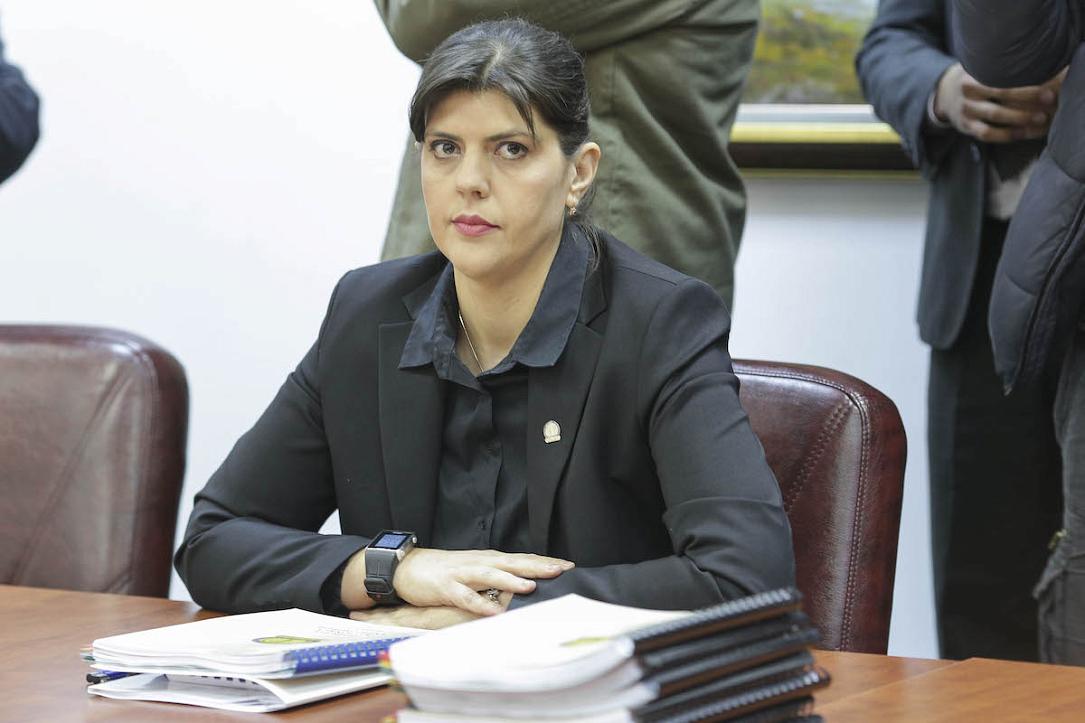 Laura Codruta Kovesi
, the former chief-prosecutor of Romania's National Anticorruption Directorate (DNA), was called in for questioning by the newly established section for investigating magistrates on the same day that she is supposed to appear before the European Parliament's LIBE committee for the final interview for the European Chief Prosecutor position - February 26.
Kovesi confirmed for local radio station
Europa FM
that she was called in for questioning as a suspect in a case in which the charges against her are abuse of office, taking a bribe and false testimony. "The subpoena comes just before I go to the European Parliament for hearings, but it's probably also a coincidence," she said ironically.
"It's obvious that, through this method, someone is trying to stop me from participating in this procedure and from getting this position," she added. Kovesi also said that, in her almost 24 years of activity, she has never been targeted by disciplinary or criminal investigations.
Laura Codruta Kovesi submitted her candidacy for the European Chief Prosecutor position last year. After an evaluation process and interviews carried out by a committee of independent specialists,
she emerged as the candidate with the best qualification for this position
. The shortlist with the three candidates proposed for this position also includes a German and a Frenchman.
Bundestag's Chairman of the European Affairs Committee Gunther Krichbaum said on Thursday, February 7, in Bucharest that
France and Germany could reach a compromise to support Kovesi for European Chief Prosecutor
. Austrian justice minister Josef Moser also stated that his country would back Kovesi.
The largest political group in the European Parliament, the European People's Party (EPP),
also supports Romanian's candidate for the post of European Public Prosecutor
, Esteban Gonzalez Pons, Vice-President of this group, said on Tuesday, February 12.
Meanwhile, Romanian justice minister Tudorel Toader, who forced Kovesi's dismissal form DNA's helm in 2018, said he would try his best to block her from being appointed as European Prosecutor. He sent a letter to the other justice ministers in the EU informing them of the way Kovesi was dismissed from DNA's helm, according to
Mediafax
. He also pointed out that Kovesi was among the chief prosecutors who signed "secret and anti-democratic" protocols with the Romanian Intelligence Service (SRI), based on which SRI officers helped with DNA's investigations. He also mentioned that the protocols were deemed anti-constitutional by Romania's Constitutional Court.
Update:
The head of the special section for investigating magistrates, Adina Florea, said on Thursday morning that the case targeting Laura Codruta Kovesi was opened following a complaint filed by runaway businessman Sebastian Ghita in December 2018. She added that the investigation will respect everyone's rights and, especially, the law, according to
News.ro
. She didn't go into details about the investigated deeds.
Sebastian Ghita, who fled to Serbia in December 2016, amid several corruption investigations targeting him, filed a denouncement against Kovesi in early-December 2018, according to
Hotnews.ro
. He said that Kovesi asked him to pay RON 200,000 (EUR 43,000) for the extradition of Nicolae Popa, one of the key people involved in the National Investment Fund (FNI) Ponzi scheme at the end of the 90s. Nicolae Popa was arrested in Indonezia in December 2009 and was brought to Romania in April 2011. Kovesi was the general prosecutor of Romania at that time.
Nicolae Popa was heard by the special section in December, after Ghita's denouncement, and testified that he was brought to Romania with a private plane operated by Tiriac Air. The Romanian Police said that it covered the extradition costs.
editor@romania-insider.com
(Photo source: Inquam Photos/Octav Ganea)
https://www.romania-insider.com/romania-kovesi-investigated?mc_cid=e9e1905c90&mc_eid=8d2f90fc5e
****
Published 07:27 February 18, 2019
Updated 07:27 February 18, 2019
Kovesi: Romanian EPPO favourite, under fire
---
The latest phase of Romania justice's drama is being played out in the European public sphere: Laura Codruta Kovesi, the frontrunner for the position of chief prosecutor of the newly-established European Public Prosecutor's Office, has been scheduled to be interviewed by the LIBE committee on the 26th of February. Kovesi used to head up Romania's anti-corruption directorate before being dismissed from the position after allegations of abuse of power and misconduct. She has been ranked first by an independent committee for the position of Chief European Public Prosecutor, followed by two other candidates, Jean-François Bohnert from France and Andres Ritter from Germany, out of an initial pool of 24.
However, last Friday, she appeared before the newly-formed Section for the Investigation of Judicial Crimes, on the basis of a summons issued the Wednesday before, a few days after Gheorghe Stan, the chief prosecutor of the section, made public that there are 18 open files against Kovesi. She is accused of abuse of service, bribery and false testimony in her previous capacity as chief prosecutor of the National Anticorruption Directorate (DNA). As she exited the Section on Friday morning, Kovesi was asked whether the case will affect her chances at EPPO's top job. "It will certainly affect my candidacy," she conceded. "There are four disciplinary actions and eighteen penal case files" pending against her, she added.
She claimed that the case has been fabricated to deny her the chance to be named to the EPPO portfolio and denied all allegations. The case has been opened following a complaint filed by Sebastian Ghita in December 2018. Ghita claims that Kovesi solicited of him to pay for the repatriation of Nicolae Popa, a Romania fugitive that was arrested in Indonesia. At that time, the police made the invoices and subsequent payment by them of the flight costs public. She has also filed a motion for disqualification of the case prosecutor and the section's chief prosecutor for conflict of impartiality.
Tudorel Toader, the Minister of Justice has already written to his counterparts to oppose her potential nomination, which will still have to go through the European Parliament and the Council. The final selection of the Chief Prosecutor of EPPO is expected to be finalised by the end of March.
The removal of Kovesi from her post last year, occurred during his tenure, after a protracted clash between the government and her. She has announced that she intends to attack her dismissal in the European Court of Human Rights. Minister Toader says that the main reason behind Kovesi's dismissal was the discovery of secret protocols between the secret services and the judiciary, signed during her mandate, for which he holds the former DNA chief prosecutor accountable. He suggests that the protocols undermine democratic freedoms and norms.
In a critical moment, the Constitutional Court found last month that the protocols in question are unconstitutional. There is no possibility to appeal this decision. In his recent letter to his colleagues, he quotes European Commission Vice-President and fellow social-democrat Frans Timmermans, who has called for an investigation into the existence of such agreements.
Romania's troubled relationship with judicial reform is certainly nothing new. After all, it was for that specific reason that the European Commission put the infamous Cooperation and Verification Mechanism (CVM) in place after the country's (and Bulgaria's) accession in 2007: the aim of CVM is to assist the country in strengthening the rule law by fighting entrenched corruption in politics and the judiciary, in particular. The ride has been a rough one. Conflicting forces, across party lines and interests, have been confronting each other for more than a decade, trying to pull the country forwards or backwards, depending on your standpoint. However, what has so far been an internal conflict, it increasingly threatens to spill over European Union-wide, with unforeseen consequences.
The reason why Romania's judicial reform nightmare cannot anymore be confined within the country's borders is twofold. Firstly, Romania currently holds the rotating presidency of the Council of the European Union. Secondly, the ongoing infighting between Kovesi and Liviu Dragnea, the president of the Social Democrats (PSD) that lead the government, has now taken a European dimension, because of Kovesi's EPPO candidacy. Dragnea, who was successfully prosecuted by Kovesi, is seen by EU leaders as being de facto corrupt – and having negative impact in Romania's justice system. His actions have drawn much criticism.
What many claim to be the politicisation of justice over the last decade has created a polarised situation where politics has taken over the justice system: the real damage is to the rule of law and the collateral damage of people who were targeted along the way – some politically motivated, and others bystanders caught in the crossfire in a political war. The DNA put away many corrupt people justly, but with many of its cases unravelling as testimonies and evidence comes to light, Kovesi is found to have been at the head of an organisation, which in the best-case scenario, she lost control of.
In the meantime, European politicians have come out strongly in Kovesi's support: Gunther Krichbaum, chair of the powerful Committee on European Union Affairs of the German Bundestag, has recently declared that France and Germany – where the second and third-ranked candidates for the EPPO's top job come from – could even reach a consensus to support the Romanian candidate. Roberta Metsola, the EPP Group's coordinator in the European Parliament's LIBE committee has praised Kovesi's CV and determination, saying she is the favourite to occupy the post. Earlier this week, Esteban Gonzalez Pons, vice-chair of the EPP Group, declared: "To respond very briefly, we clearly support her. We believe that the political approach must stay away from the election of the European Prosecutor, though. So, only considering her technical capacity, we support her." However, politics is not quite been put aside, with all three of the aforementioned statements coming from people in the EPP family. Romania's governing partners are unmoved in their disapproval.
It should be noted that in the CV submitted with the application of Kovesi for the job, she presented among her qualifications that she was twice (in 2007 and in 2011) awarded certificates of appreciation for outstanding assistance and support provided to law enforcement activities of the US Secret Service. The awards were signed by the Director of the US Secret Service himself and show the loyalty of the candidate to our overseas partners.
Last Thursday, representatives of the United States Embassy to Romania, in comments to the G4Media.ro outlet, said: "We trust the professional experience of Laurea Codruta Kovesi in Romania and we support her efforts to seek professional opportunities in the international community. It is extremely disappointing to see yet another apparent attempt to discredit it. We wish her success."
Now it is up to a very small group of people to decide who will be the first person to lead the European Public Prosecutor – the Chief Prosecutor who will very much define what the organisation turns into. Romanian critics of Kovesi suggest she will use her newfound power to lash out at those who she was not successful in using her power to take down, and question her integrity. European critics challenge her management skills. For now, Kovesi is caught between a rock and a hard place, but has some very powerful supporters behind her.